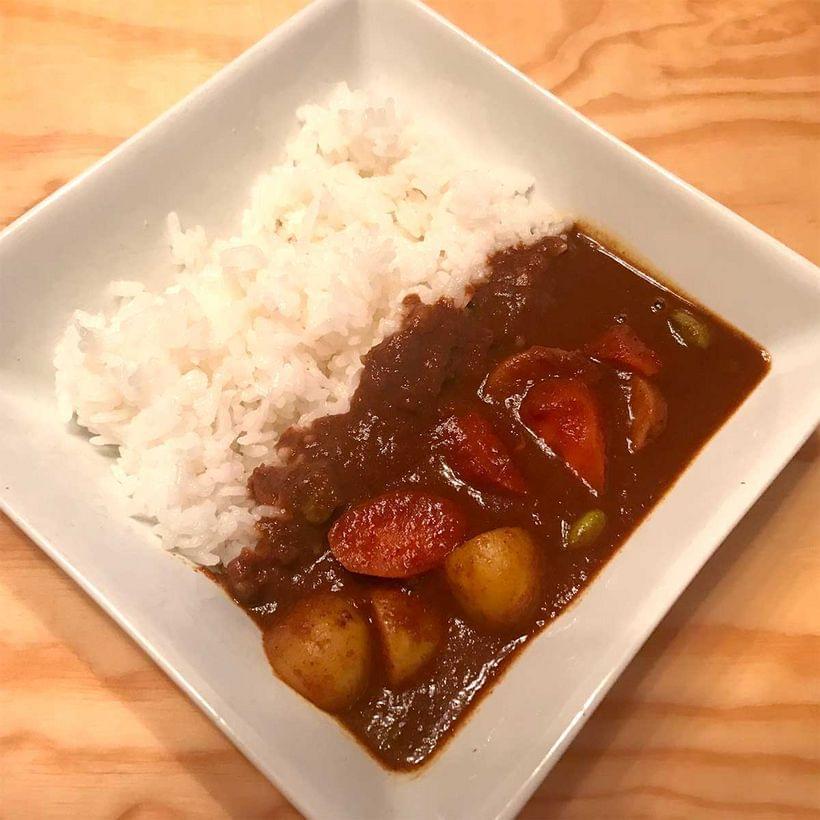 This is the actual recipe for Persona 5's Leblanc curry, put together from this video and this recipe card—both official. It's not just good, it's canon.
Do as Sojiro Taught You
The ingredients and ratios are unchanged, right down to the kind of measures that, say, a gruff café owner with a heart of gold might use—like "小1個 ヨーグルト" which, near as I can tell, means "one small thing of yogurt." Like a little single-serving container, y'know? Point is, definitely use the gram measures.
You can watch the video Atlus put out for the step-by-step process, though I've added a couple general-purpose curry tips in the instructions—like using a light-colored pan for the roux to get a better read on the color. Speaking of which:
Follow Your Heart
I tend to skip the actual beef. If you wanna go that route, replace the water with beef stock—that is, if you have the for real stuff handy. If you're working with box stock, chicken is gonna get you further. Full vegetarian? A nice rich vegetable stock will do the job.
Throw in some diced potatoes and faux-tourné'd carrots if you want, too—though I find this recipe to be a little carrot-heavy as it is.
Cut way back on the nutmeg if you're freshly microplaning it, lest you end up with curry bordering on "festive."
If you don't have beef boullion cubes, put a little MSG in there; you know that's why that's on the ingredient list. Sojiro is, after all, a man of taste.
Also, I wouldn't fault you for using a food processor in place of all the grating, but remember that cellular-level damage changes the potency of alliums. So, be sure to really "Crow's Showtime" the hell out of them, if you get my meaning.
Ingredients
Instructions

Dry Roux
4 Tbsp. All-purpose flour (36g)

2 tsp. Cumin (4g)

2 tsp. Coriander (4g)

2 tsp. Turmeric (4g)

1 tsp. Cardamom (2g)

1 tsp. Cinnamon (2g)

1 tsp. Chili powder (1g)

1 tsp. Nutmeg (1g)

1/4 tsp. Clove powder (0.5g)

1/4 tsp. Black pepper (0.5g)
Instructions

Meat
1 tsp. Vegetable oil

500 G. Stew beef, cubed

1 Bay leaf (4g)

1 C. Red wine

3 C. Water (2g)

Salt & pepper, to taste
Instructions

Vegetables
3 Tbsp. Vegetable oil

2 Yellow onions (400g), finely minced

1 Large carrot (150g), grated

1/2 Apple (100g), grated

1 clove Garlic (10g), grated

10 g Ginger, grated
Instructions

Secret Ingredients
1 square Chocolate (8g)

1 tsp. Instant coffee granules (2g)

1 Tbsp. Worcestershire sauce (17g)

1 serving Yogurt (110g)

1 Tbsp. Honey (19g)

1 cube Beef boullion (5g)

2 tsp. Kosher salt (10g), or to taste

1 Tbsp. Unsalted butter (14g)
Instructions
Instructions

For the Dry Roux
Cook the flour in a medium-sized pan over low–medium heat, stirring constantly, until uniformly chestnut brown. A light-colored pan will make this easier to gauge.

Add spices and cook for a minute or two longer, until just fragrant. Remove from pan to prevent burning and set aside.
Instructions

For the Meat
Rub beef with salt and black pepper.

Heat vegetable oil until shimmering over medium–high heat in a large sauce pan. Add cubed beef and brown on all sides. Add one cup of red wine and a bay leaf, and allow it to come to a boil for a few moments before adding water. Once it returns to a boil, lower heat and leave to simmer.
Instructions

For the Finished Curry
Heat vegetable oil over low–medium heat in a large stew pot. Add onions, stirring constantly, until uniformly amber in color. Add grated carrot, garlic, and ginger and stir-fry for a few minutes, stirring constantly. Add dry roux and a ladle of the simmering liquid, stirring until uniform and thickened. Add meat and additional simmering liquid to cover, and stir.

Add chocolate, coffee, Worcestershire, yogurt, honey, bullion, and black pepper. Allow to stew for several hours, thinning if desired with remaining simmering liquid.

Add salt, to taste, and finish with butter before serving.