Category:

baking
Raspberry Oat Bars
Active Time

20 minutes

Total Time

45 minutes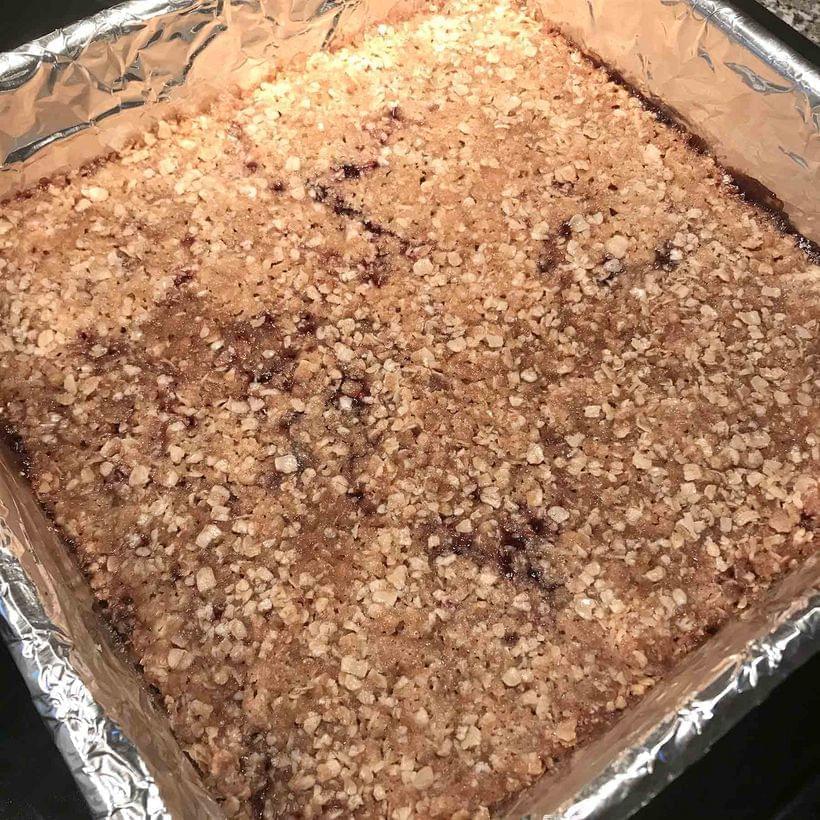 You know those ads for marshmallow-centric breakfast cereals where they say they're "part of a complete breakfast," then show a tiny bowl of cereal, two grapefruits, six bran muffins, a ceasar salad, and a fistful of multivitamins sandwiched between two blocks of tofu?
Well—eat 'em in the morning, and these too can be part of the same kind of complete breakfast. They've got oats in them, after all.
The only unusual thing going on in here is the five-spice powder—it compliments berry flavors in a big way. Used like this, it stands out just enough to garner a couple of "what's in these"-es, but not so much that anyone could pick it out of the ingredient line-up.
The G-Word
I made a gluten-free batch of these suckers for someone, a couple weeks back. Replace the all-purpose with that "measure for measure" gluten-free flour (I used Bob's Red Mill), and make sure to get the minute oats that say "gluten free" on 'em (I used Quaker). Long as you're reading your ingredient labels carefully—a subject with which you are well acquainted, I'm sure—you should be good to go.
Ingredients
Instructions

Bottom Crust
1/2 C. Unsalted butter, melted

1/4 C. Granulated Sugar

125 G. All-purpose Flour, (about a cup)

1/4 C. Minute Oats

1 tsp. Vanilla Extract

1/2 tsp. Almond Extract

Optional

1/4 tsp. Kosher Salt
Instructions

Filling
3/4 C. Raspberry Preserves

1/2 tsp. Vanilla Extract

1/4 tsp. Five-Spice Powder

1/2 tsp. Cornstarch
Instructions

Topping
30 G. All-Purpose Flour, about 1/4 cup

1/2 C. Minute Oats

1/3 C. Light Brown Sugar

1/4 tsp. Five-Spice Powder

1/4 C. Unsalted Butter, straight from the fridge
Instructions
Instructions

For the Bottom Crust
Pre-heat your oven to 325° f (~160° c).

Combine everything and press evenly into a foil-lined 9×9 baking pan

Bake for 15-20 minutes, just until fully set.
Instructions

For the Filling
Combine all the filling ingredients and pour over the still-hot bottom crust. Even this layer out with a spatula.
Instructions

For the Topping
Whisk together dry ingredients.

Using a pastry cutter, work cold, cubed butter into the dry ingredients until roughly combined and pea-sized lumps have formed. If combining with your fingertips instead of a pastry cutter, cut the cold butter into small cubes before adding it.

Evenly distribute this topping over the filling layer.

Bake for another 30 or so minutes, until edges have just started to brown.

Allow to cool slightly before removing from pan—allowing it to cool fully will make it difficult to remove the foil.